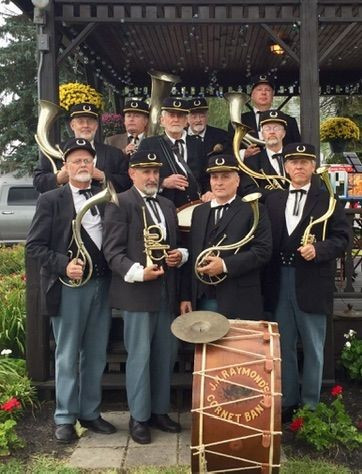 Bringing bands and musicians together to recreate
HISTORICAL
BRASS BANDS
Photo taken in Copenhagen, NY for their 150th Anniversary event August 24th, 2019. In this photo is Eric Totman (Front row, 2nd from right) with Jeff Stockham (Front row on far right) and his Excelsior Cornet Band. All of the instruments in photo are from Eric's rare collection except for one Baritone and the snare drum.
LOOKING FOR A VINTAGE BAND FOR YOUR EVENT?
If so, you've come to the right place. Please fill out our Band Request and Application Form. Since our our musician database is nationwide, it is best if you fill out this form 3-12 months in advance of your event to guarantee a band that meets your needs. To learn more about what we can provide, as well our goals, please visit out About page.
BANDS AND MUSICIANS WANTED:
AHBBS is seeking new members and joining is currently FREE! Learn more about AHBBS goals and objectives on our Members page.